Our focus is to make a great game that includes miniatures as an enhancement, not a necessity...
Bantam West has hints of both Euro and American-style. It has an engine-building mechanic and requires strategy, but also allows for PvP fighting and has aspects of luck and drama, making it somewhat of a cross-over game between the two aforementioned classes of tabletop games. Traditionally, Eurogames use wooden pieces called Meeples, while American-style games (or "Ameritrash") bring armies of dozens and sometimes hundreds of minis on the table.
For the launch of our first game on Kickstarter, we did not want to offer a plastic yard sale of tons of minis, with a side of the game to come along with them. The primary focus of our project is to give the players an immersive, realistic, and gritty experience... not to make money or make more sales! As we were moving forward with that philosophy in mind, we chose to make minis an aesthetic enhancement to the game, rather than the main attraction.
Levi Mercer Miniature (© Bantam Planet LLC)
Due to manufacturing costs, the character minis and custom fit plastic tray will be included in ALL pledge levels once we hit $100k in funding! The minis are highly detailed and vary in height from 35mm to 45mm, making them larger than the typical heroic scale. The base game comes with standees until the stretch goal is unlocked, so the minis are meant to upgrade the look of the game on the table. I personally wanted to include minis in the game, because growing up I loved to paint Warhammer 40k minis! I cannot wait to paint my own set of Bantam West minis once the production copies start to arrive.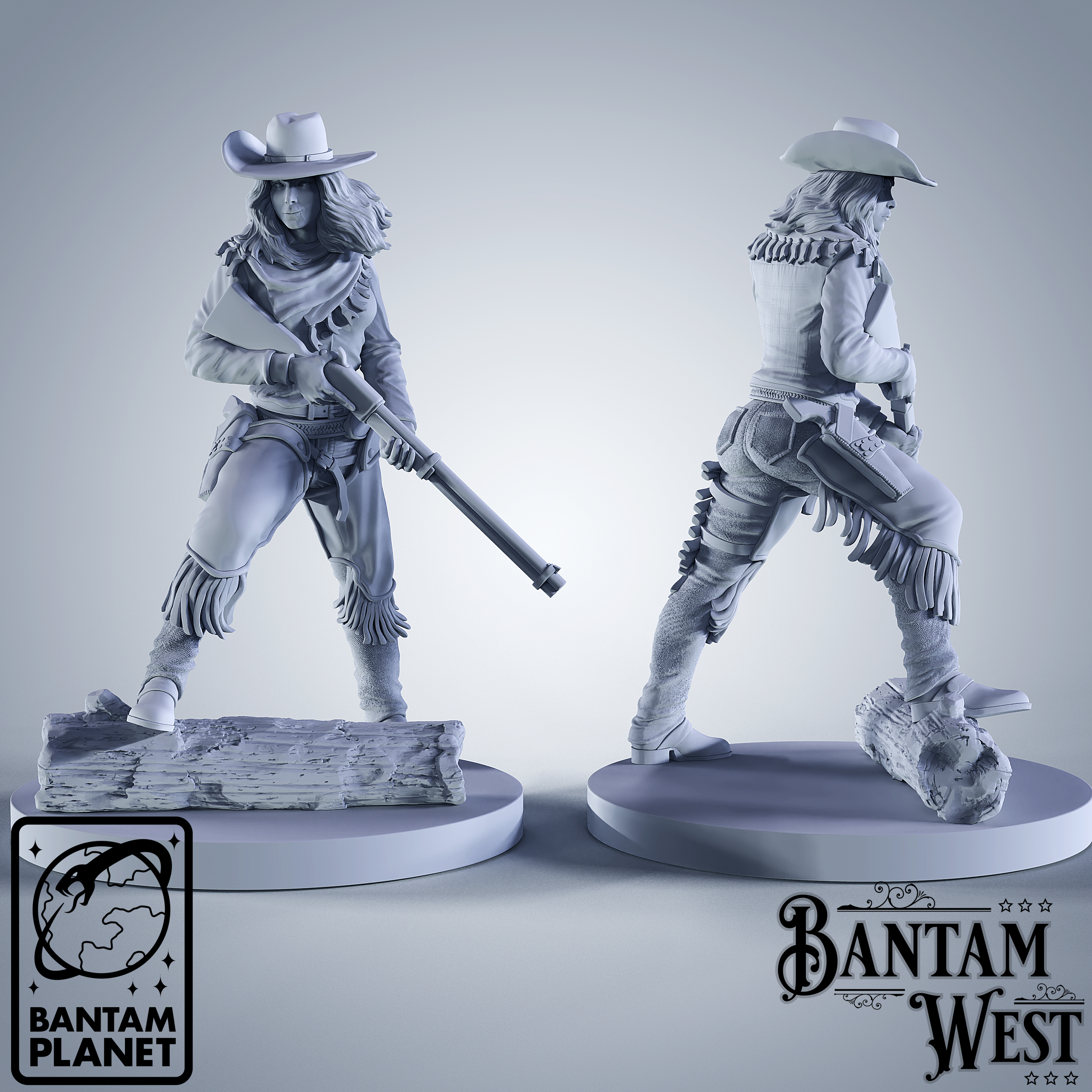 Hannah Wilde Miniature (© Bantam Planet LLC)
To further enhance the look of the game, there is a Terrain Upgrade Pack available as a game add-on. The Terrain Upgrade allows players to swap the wooden cabin pieces that come with the game with cabin miniatures that are custom designed for each character. It comes with 14 cabin minis and 5 unique designs. The designs give the player insight into the character's culture and homeland architecture.
Terrain Upgrade Pack (© Bantam Planet LLC)
All of the minis were made by the extremely talented Francesco Orru! Check out the link to his ArtStation page at the bottom of this post. It was an absolute pleasure working with him, and I look forward to seeing what designs we come up with in the near future.
...maybe Enemy Upgrade Pack next? 😉
Art Station: https://www.artstation.com/4theswarm